CURRENT/UPCOMING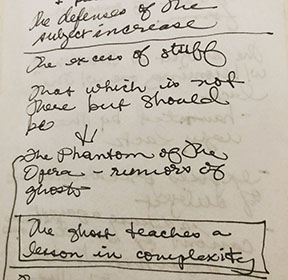 Archive acquired by CCS Bard
[To be transferred in March, 2020)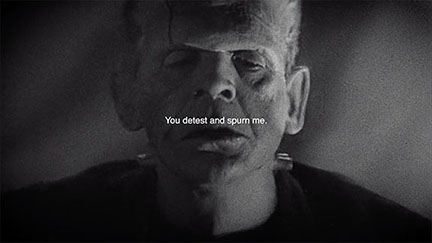 That Monster: An Allegory
A screening at The Institute of Contemporary Arts in London
"In a body of video work produced over the past decade, Kolbowski has explored
strategies of "re-animating" the past to pose questions about politics in the present.
In
That Monster: An Allegory
(2018), she returns to the genre of silent film and
Mary Shelley's fictional tale of man-made monstrosity, prompting such questions as:
how are political and psychic subjects formed now? What does art offer by way of
intervening in the mass politics and mass media of today? What forms of resistance
are possible?
That Monster: An Allegory
features re-edited images and sequences
from the classic horror film
The Bride of Frankenstein
(Dir. James Whale, 1935), and
in this screening, the looped video will play once with sound, and once in silence.
A conversation with the artist, academic Mignon Nixon and curator Kari Rittenbach
accompanies this screening with an opportunity for audience questions."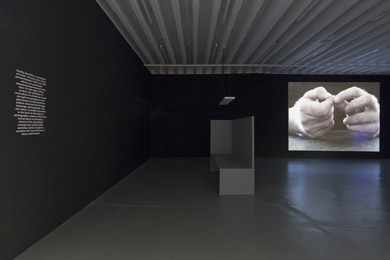 an inadequate history of conceptual art in:
Présences Voyageuses & Degrés Est
March 1-June 2, 2019

Opening: February 28, 7pm

49 Nord 6 Est Frac Lorraine
1 Bis Rue des Trinitaires
57000 Metz
France
Hours: TuesdayFriday 26pm,
SaturdaySunday 11am7pm

T 0033 0 3 87 74 20 02
info@fraclorraine.org
[aihca has been acquired by Frac Lorraine.]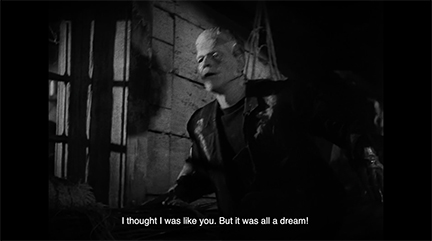 Silvia Kolbowski: The Sleep of Reason
Screenings of the below; discussion with curator Kari Rittenbach, and the audience, will follow.
Wednesday 20 Feb 2019
7-9 pm
Presented by Yale Union at NW Film Center, at The Portland Art Museum
Proximity to Power, American Style, 200304
Digital slides (color), sound
Audio: 37.18 min.

That Monster: An Allegory, 2018
Video loop projection, black and white, 18 min.
Music: Excerpts from Metamorphosis 1 and Metamorphosis 2 by Philip Glass
© 1988 Dunvagen Music Publishers Inc. Used by Permission
Pianist: Dustin O'Halloran
https://nwfilm.org/films/silvia-kolbowski-the-sleep-of-reason/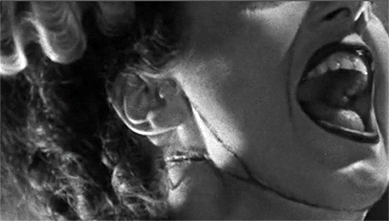 That Monster: An Allegory
An allegory about the human subjects that capitalism produces.
Video, with music and without music...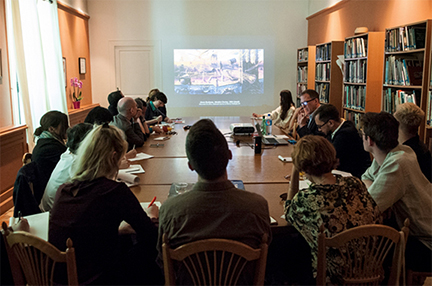 Senior
Advisor, Terra Foundation Summer Residency
Giverny, France,
July 2019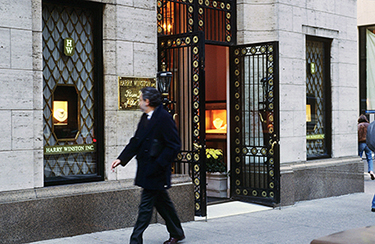 New posting on the Text/Interview page of website:
Reign of the White Glove
by Jeffrey Stuker.
A new analysis of the Harry Winston, Inc. project (1990)
In
Effects
, No. 1, January 2018
Edited by Christopher Page and Orlando Reade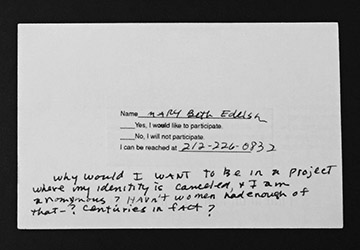 June 23-December 14, 2018
The Conditions of Being Art: Pat Hearn Gallery and
American Fine Arts, Co. (1983-2004)
Opening Reception June 23rd, 2-5pm
Annandale-on-Hudson, New York
[includes
an inadequate history of conceptual art
, with archival material.]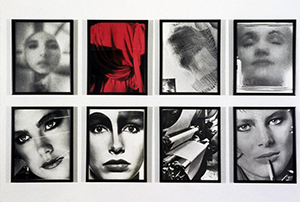 October 1, 2017-February 4, 2018
Musée d'art moderne et contemporain, Geneva
An exhibition organized by Paul Bernard, Lionel Bovier and Julien Fronsacq
[Includes
Model Pleasure V
, a new acquisition by MAMCO, Geneva.]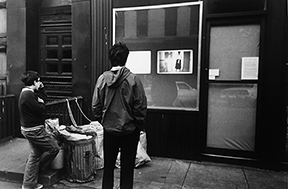 A conversation with Silvia Kolbowski
"A few howls again?"

2009-2010

Commissioned by Taipei Bienniel, 2010; Curated by Lin Hong-John and Tirdad Zolghadr

September 7 - November 14, 2010

A few howls again? "resurrects" the brilliant and notorious German journalist and political militant, Ulrike Meinhof (1934-1976) in a stop-motion photo "animation" video loop with titles, as well as installed photos. The project raises questions about contemporary state violence and political resistance.

At left are installation views of the work at the Taipei Bienniel.

See this link for an excerpt of the video under project listing. (link)
"After Hiroshima Mon Amour" and "A Movie Will Be Shown Without the Sound"

May 8, 2009-June 14, 2009
One-person exhibition at Moderna Galerija, Ljubljana, Slovenia

The projection on opposite walls of a colored rectangular space of "After Hiroshima Mon Amour" (2008) and "A Movie Will Be Shown Without the Sound" (2006) allows the spectator to choose a position from which to take in either the Resnais/Duras film "Hiroshima mon amour" (1959), played without sound or titles, or "After Hiroshima Mon Amour." Enclosed in the same visual and aural space, the video and the film have the possibility of transforming each other.
"Nothing and Everything"

One-person exhibition at Leonard and Bina Ellen Gallery
Concordia University, Montreal
January 30 - March 7, 2009
http://ellengallery.concordia.ca
Curated by Michele Theriault

Curator's statement:
This exhibition presents two major works, produced ten years apart, which consider very different contemporary issues. On the one hand, "an inadequate history of conceptual art" (1998-1999) reflects upon the renewed interest in Conceptual Art, and on the other, "After Hiroshima Mon Amour" (2008), engages with American military interventions in Iraq, and the associated criminal neglect of post-hurricane New Orleans. These works offer subtle and provocative explorations of the meeting of unconscious forces with social, political, and historical structures as they are imbricated, not only with these events, but also with forms of art, cinema and writing that have radically transformed existing conventions.

A catalogue of the same title, with a discussion between Theriault and Kolbowski can be ordered from http://ellengallery.concordia.ca
"After Hiroshima Mon Amour"

One-person exhibition at La><art, Los Angeles
September 20 - November 1, 2008. (web link) (press release)
Curated by Christopher Bedford
"Manifesto Marathon"

Participation in Manifesto Marathon, Curated by Hans Ulrich Obrist
Serpentine Gallery, London
October 19, 2008 (web link)
All photos © Serpentine Gallery, London and
Mark Blower, photography

"Younger and Stronger Men"

F.T. Marinetti's "Futurist Manifesto" was scrambled and turned into a dialogue. A performance including 60 images of mass audiences from around the world, and two actors each reading parts of Marinetti's scrambled manifesto as a pseudo political debate dialogue.
"an inadequate history of conceptual art"
One-person exhibition at Center for Contemporary Art Ujazdowski Castle, Warsaw, Poland
3/9/07 - 4/22/07
Curated by Pawel Polit
Photos 3-11 by Mariusz Michalski

This 1998/1999 project was reinstalled, with the addition of a Polish audio translation, and a new projection component. Due to the fact that a loan of audio equipment from Bang + Olufsen, required for the original specifications, was not able to be procured, this component was substituted with high-end Polish audio equipment from the 1970s.

Selected Bibliography
an inadequate history of conceptual art (Center for Contemporary Art, Ujazdowski Castle, Warsaw), 2007. (Includes an interview by Luiza Nader.) (See Publications)
Review, Obeig.pl (April 2007) In Polish